We're here to help
Product information
If you are designing your green home, the bellissa team will always be happy to help with advice and action. Among the help you can find here are construction videos, dealer addresses and answers to frequently asked questions.
You can download the set-up instructions directly from the product.
Dealer search
Find a bellissa dealer near you

Where can I get bellissa products? Here you can quickly and easily find a dealer near you.

I am having problems with an order or the website
Can I go to the checkout as a guest, without setting up a customer account?
Yes, ordering as a guest is also an option with us. You do not need to set up a customer account to do so.
What happens if my delivery address is different from my billing address?
Not a problem. When you get to the checkout, you can enter different addresses for billing and delivery.
Why was my voucher or discount not credited to my order?
It is possible that you did not reach the minimum purchase value. A voucher can only be redeemed from the minimum purchase value upwards.
Can I order an item that is not in stock in advance?
We are sorry that the goods you wanted are sold out. Unfortunately that is not possible. You can only order items that we have in stock.
How can I change my user name and password?
You can change the information in your customer account, which you will find at the top of the screen near the shopping trolley icon.
I have a question on shipping or delivery
To which countries does bellissa deliver?
Via this website, we currently deliver to Germany, Austria, France and Poland.
When will my order be dispatched?
Usually, your goods will leave our warehouse within 2-3 working days. Working days are Monday to Friday except for public holidays.
How high are the shipping costs?
Germany, parcel post: 0€ for orders over 100€
Germany, parcel post: 6.90€ for orders under 100€
Germany, carriers: 0.00€
France, parcel post:19.90€
France, carriers: 100.00 €
Austria, parcel post:15.90€
Austria, carriers: 70.00 €
Poland, parcel post:22.90€
Poland, carriers: 100.00€
How will my order be dispatched (transport company)?
If you are receiving a parcel order, we will ship it with GLS. We ship very large and heavy orders with Dachser.
How long will it take until my order arrives?
This depends on the shipping method chosen and the season.
Parcel deliveries as follows:
Between March and June, it may take a little longer. 3-4 days
For the rest of the year, 2-3 days
Carrier deliveries as follows:
Approx. 4 days, as we are here working with an advice note and an individual delivery time is agreed with you.
Do I receive an order confirmation?
Yes, you will always receive a confirmation of order/invoice by email immediately after submitting your order. You will receive this at the email address you have given us.
May I submit an address outside the countries mentioned as a delivery address?
Unfortunately not. From this web page, we cannot deliver to addresses outside the countries listed.
I am a business customer and would like the order delivered directly to my customer. Is that possible?
You can give different addresses for delivery and invoicing, so that the delivery can go straight to your customer.
How do I return an item?
It's very easy - first go to our Returns page. You will find all the information you need there. But please get in touch with us if you need any help.
You can go to https://www.gls-returns.com/#/m/bellissa-return-portal to create a return label and stick it on the package. Then take your package to the next GLS Shop and hand it in. Done! Once we receive the goods, you will shortly get your refund.
When will my return be processed?
After we have received your returned goods, it will take a few days for us to check and process your return. Processing on our part should not take more than 10 working days, but it might take up to 14 days for the credit to appear on your account. If on occasion this should not happen, please get in touch with us and we will follow up the matter.
I would like to cancel my order
What do I need to do to cancel my order?
If you want to cancel your order, just get in touch with us.
You can use our contact form to do so.
I have cancelled my order. How long will it take for me to receive my refund?
Your refund will be processed within 14 days after we have received your cancellation or return.
How do I receive my refund?
Of course you will receive your refund as soon as possible. We will refund the purchase price to the type of payment you chose to place your order.
General questions on materials
Corrosion protection with zinc-aluminium galvanisation
Tested top quality for extremely durable mesh panels
Our zinc-aluminium galvanised mesh panels are produced in accordance with DIN EN ISO 9001:2000. The result of the neutrally implemented salt spray test according to DIN SS 50021 / ASTM B117 / ISO 9227 was a resistance of at least 3000 hours.
The cathodic effect (closure after damage) effects regeneration of any damage to the surface due to scratches and bending.
Galfan wires with a diameter of Ø 2.0 / 2.5 / 3.0 mm have approx. 125g/m² zinc coating and a tensile strength of min. 650 to 750 N/mm². For wires with a diameter of Ø 3.5 / 4.0 / 4.5 / 5.0 / 6.0 mm, this is approx. 350g/m² zinc coating and a tensile strength of min. 500 to 650 N/mm².
Cut surface rust - cathodic protection "heals" damage When zinc "sacrifices" itself for the steel.
Zinc-aluminium galvanising is extremely resistant to mechanical stresses. And yet where the panels are cut or if there is extreme stress, scratches and scrapes may occur.
With damage of this kind, the so-called cathodic protection is effective, which builds up a barrier in an electro-chemical manner and therefore also protects damaged spots from corrosion. This means that the zinc surrounding the damaged point "sacrifices" itself, so to speak, and thus saves the steel.
Corrosion protection by hot-dip galvanisation
Hot-dip galvanisation - corrosion protection according to DIN EN ISO 1461
Where defect-free galvanisation is concerned, purely visual matters are of no importance. Hot-dip galvanisation has no decorative function, but serves only to protect against corrosion.
The use of different metal alloys and different thicknesses of material can lead to variations in the degree of sheen. Without special protection, transport and storage may leave pressure marks and superficial scratches. However, these irregularities in surface quality do not form any grounds for complaint. Environmental factors (oxidation) will make them disappear – the surface will in time turn an even shade of grey.
Rostbeschleuniger für Cortenbleche
Schneller zu einer gleichmäßigen Rostoptik

Damit ein Cortenartikel in kurzer Zeit eine gleichmäßige Rostoberfläche ansetzt, kannst du deinentsprechendes Produkt einfach per Blumensprüher mit einer umweltverträglichen Lösung "benebeln " (1 Teil Speise-/Kochsalz, 1 Teil Essigessenz und 3 Teile Wasser).

Der Korrosionsvorgang dauert in der Regel lediglich einige Tage, kann sich in manchen Fällen aber auch über drei bis vier Wochen hinziehen. Ein Wechsel zwischen feucht und trocken fördert die Rostbildung. Zur Beschleunigung kannst du einmal täglich nachnebeln. Den Blumensprüher nach Gebrauch mit sauberem Wasser durchspülen.

Traces of smoke on mesh panel products
Traces of smoke will go away by themselves…
For optimum weather resistance of our mesh panel products, we use wires galvanised with a zinc-aluminium alloy. Compared to the usual hot-dip galvanisation, the aluminium content makes this major difference: the alloy enables the wires to be welded after galvanisation – and thereby provides considerably longer corrosion resistance than for panels that are only galvanised after welding.
In a salt spray mist test according to DIN 50021, it took approx. 3000 hours for zinc-aluminium galvanised mesh panels before 5% ferric rust appeared. In the standard final galvanisation, this value was already reached after approximately 500 hours.
Also, the mesh panels galvanised in the final stage are subject to considerable deformation and warping when subsequently hot-dip galvanised, due to the thinness of their material. Any smoke traces after welding the zinc-aluminium alloy will disappear of their own accord in the rain and are therefore not a defect.
It is also feared that the wires, by being subsequently welded at the crossover points, could rust more markedly at exactly these points. However, this concern is unfounded, as this method of production is tried and tested and corresponds to the current status of the technology.
Wood is a natural product
With our wood, irregularities are part of the nature of things.
Little cracks, knots and occasional changes in colour are completely natural effects when wood is used – in complete contrast to artificially manufactured products.
At bellissa, we use high-quality finish Douglas pine wood from German forests in the Lake Constance, Upper Swabia and Allgäu regions. This wood is extremely weather-resistant and durable – and with regular oiling, you can keep its natural colour for a long time.
We also use wood with knots, as we want to value, use and not waste this valuable raw material and resource. In outdoor use in particular, these knots create an organic look and every tree is as unique as every person.
Stones can rust too
Because of their geological origins, stones occasionally contain enclosed amounts of sulphur or iron that can be washed out by weather conditions and lead to traces of rust. To prevent further corrosion, you should remove these stones and any traces of rust on the mesh should be cleaned off.
Does Corten steel release pollutants into the soil?
We had our Corten products tested for food safety by an independent institute and received certification in 2021. This was important to us because we use the material among other things for herb spirals and raised beds and do not want any harmful substances in food. Random tests of our products in the laboratory have not found any limit values to be exceeded.
As is so often the case, there may be a potential health risk if the material is used improperly - unfortunately we cannot rule this out.
To explain: The patina on Corten contains small amounts of chromium, copper and nickel, which can possibly pass into the soil if the basic barrier layer is not formed. Studies show that Corten is harmless as long as the barrier layer can form in peace. Once the barrier layer has formed, the material can be used in the garden without hesitation and the cultivation of edible plants is absolutely safe.
A regular alternation of wet and dry in a period of approx. 21 days is normally enough to form the base layer. The barrier layer is fully formed after 2-3 years. This means that you have to give the herb spiral about a month to form the base layer before you plant it.
As soon as the base layer cannot form, e.g. if the alternation between wet and dry does not take place in the outdoor area, heavy metals can (but do not have to) dissolve from the steel and possibly be released into the soil as hazardous substances.
Heavy metals occur naturally in nature and in most gardens, and can also enter any garden soil via the rain, for example. The decisive factor here is again the limit values.
For all those who are unsure about Corten despite certification, we offer a galvanised version in the same design for most articles. With galvanised versions, we can absolutely exclude potential releases of heavy metals. Iron, which can be released from galvanised steel to the soil, is even a valuable mineral that benefits plants and us humans.
Remove product stickers and adhesive residues
You want to remove unloved stickers and adhesive residues?
Our practical tip can be easily implemented at home without the use of chemicals:
Heat the affected area with a hair dryer and simply wipe or dab with a damp cloth or a piece of kitchen roll.
Caution: Metal conducts heat, so be careful not to burn yourself. A bath in warm water (lukewarm) also works well as an alternative without electricity.
Hammering in powder-coated products
For powder-coated products, please use a rubber mallet or driving aid such as a wooden block.
Guarantee registration
Go to 5 year warranty now

At bellissa, you will receive a 5 year guarantee on selected products. To do so, you will need to register the relevant item here 3 months after purchase.
You will then receive a confirmation message from us and if during the guarantee period rust or through corrosion should occur, just claim by email from us at warranty@bellissa.com. Please send pictures and your purchase receipt as an attachment – we will then immediately get to work on your guarantee claim!

About bellissa
Quality is in the detail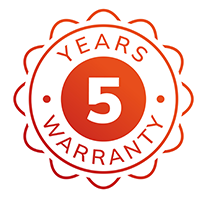 At bellissa, we look on nature as our model and source of inspiration. Nature is an amazing designer. It is simple, efficient and beautiful. We find ways and means to help our customers make space for nature. We link people with nature with our intelligent, long-lasting and sustainable solutions. We guarantee outstanding quality and products that are user-friendly and easy to handle. bellissa is your partner for a natural lifestyle in your green home.
Contact
Your project in good hands

Do you have any questions on implementing your project with our products? We are happy to advise you!